Old engines have always fascinated me. They are after all, the reason why things are they way they are today. To ignore history while advancing into the future would be dumb. Who better to learn from than our predecessors? It's free knowledge. Anyhow, in Ian's old office there was a small picture frame that had a picture in it of the piston and rod combinations of the engines that raced at Indy in what used to be CART/Champ Car World Series. Check out the rod lengths and bore sizes while they go from heavy to light in weight. All engines displaced 2.65L regardless of cylinders. As the engineers searched for more power, RPMs went up, strokes became shorter to control piston speeds, components became lighter, and on and on. American iron people will never admit it, but don't forget in the racing world there is a replacement for displacement: RPM.

Here is the 4 cylinder Offy engine with it's one piece block and head assembly with no head gasket to fail. The entire engine had to be built from the bottom side. I've only ever seen one of these in real life. Colin here at Cosworth helped build one before. He said they are a bitch to build. These engines were known to be pretty durable and saw as much as 1200bhp in qualifying. His friend told him that when they used to be on the dyno, the entire building would shake at 1200bhp because it was 300bhp per cylinder thumping on the dyno. I asked Colin what did they do for wastegates? He said, "They just sealed them up and tried to get as much boost as they could during qualifying." Holy shit.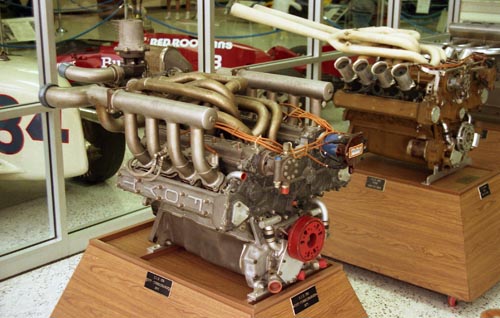 Here's the Foyt 4 Cam Ford engine. I know nothing about it, but check out the headers coming out of the valley. It's kind of cool looking with all the tubes.

Here is the venerable DFX which made up to 1000bhp+ and 11500rpm in qualifying. The DFX was derived from the DFV F1 engine in Europe, but was tweaked for Indy Car use here in the USA with the addition of a turbo. The DFX is one of the reasons why the Cosworth Torrance facility was started 30 years ago.

The next CART engine from Cosworth was the XB. It was much lighter in weight and saw as much as 14,000rpm. Sometimes the builders here tell me stories when the XB, XD, and XF were competitively raced against Honda, Mercedes, etc. They sounded like really exciting times of design, research and development, and testing. Engines were built specifically for extra power during qualifying (for the teams that had $$$) and for the 500 mile races. I wish I was around for all that. Who knows…maybe it just might come back one day.