Here are some pics from the Tokyo Motor Show. Nissan sacrificed one and cut one in half – diagonally. Check out the twin intercoolers and rear transaxle. Remember my post on intercooler tubes? Nissan knows what's up. There's a Time Attack video on YouTube of the GT-R lapping Nurburgring at 7:38. For those of you that remember, Blitz took their Supra there about 6 years ago and made a big fucking deal about 7:42. The Supra had 800hp and was pretty much an all out race car. That either tells you that Blitz is weak or that Nissan knows their shit. It's probably the former. Anyhow, check out the video. The GT-R is fucking fast and always in powerband. The 6 speed "automatic" transmission shifts fast (0.2 seconds per shift). For a 3800 pound car, it handles like a motherfucker too – it boats around a little, but not much.
FYI at the Nurburgring Nordeschleife:
Ferrari F430 – 7:52
Porsche GT3RS – 7:48
Ferrari 599 GTB Fiorano – 7:47
Porsche GT2 – 7:32 (for 2.2x the money!!!)
Dodge Viper SRT-10 Roadster – 8:13
I couldn't find how fast the standard 997 twin turbo was. Finally, a Japanese car that the world must respect. Forget the Lexus IS-F or any other Japanese car coming out.
It looks better the red. The open mouth of a retarded, sorry, mentally handicapped kid isn't as obvious like in silver.
Long sweeping wide radius bends in the intercooler tubes. I'm sure Nissan was forced to do this to extract every little bit of power out of a ULEV 478hp 3.8L. You can bet those intercooler cores suck ass though. Mass produced intercoolers are usually shit.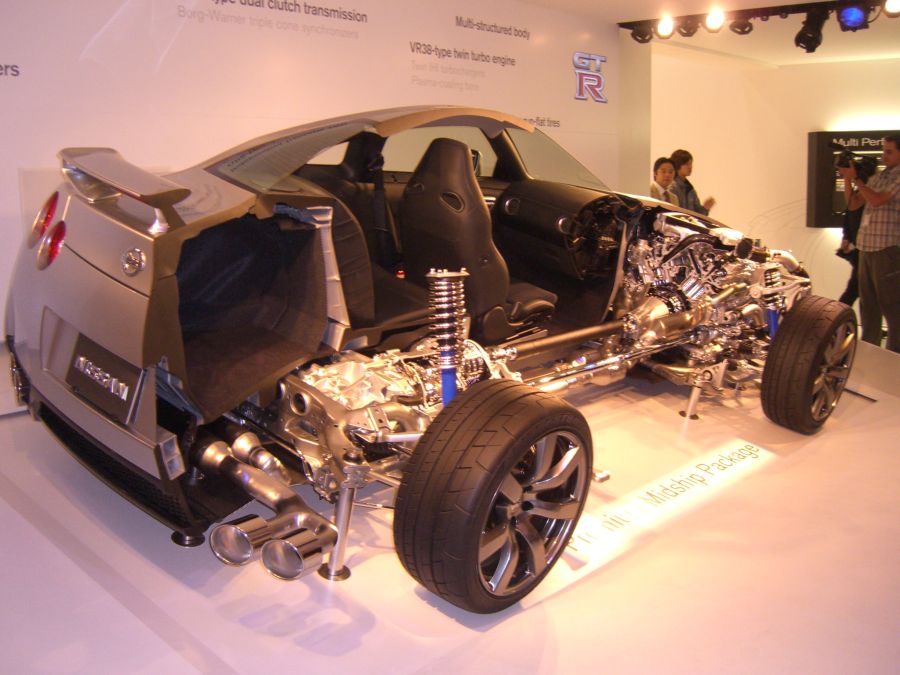 Check out the rear transaxle – sweet. You can bet any cat-back exhaust for this car is going to cost a small fortune too with all that shit going on back there: a clusterfuck of a rear crossmember, big ass transaxle, quad exhaust tips, low hanging rear bumper, rear diffuser, etc. I bet exhausts will be in the neighborhood of $2000 for a stainless cat-back.
It should be exciting for the tuning world.