,
3. Questions
– When was the first year you started drifting and your age?
It was 2002 and I was about 20.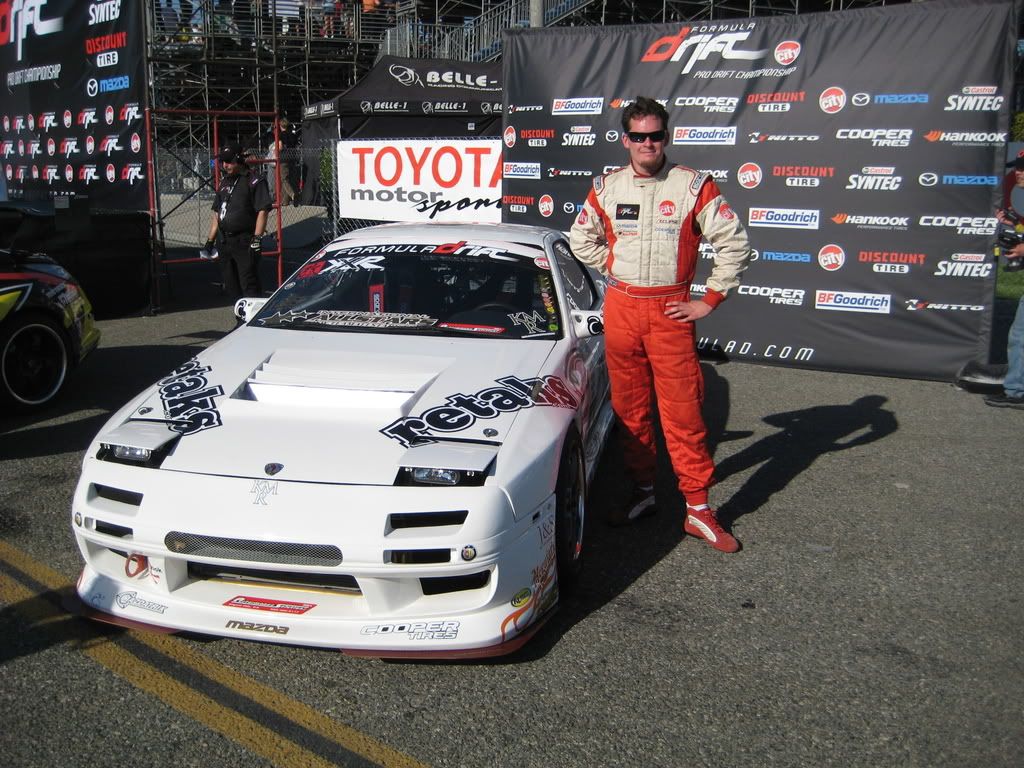 Kyle Mohan in his early Formula Drift career.
– What or who influenced you to start drifting?
I always loved to see cars or anything slide. Henry Schelley, who worked with me at the time at Mazdatrix, brought in a very early D1 video and I was just amazed by it. I knew soon as I saw it I had to try.
– Where did you learn to drift?
At Club 4AG / Drift Day events in the Irwindale parking lot as well as Just Drift events at Willow Springs.
– What was your first drift car?
1982 Mazda RX-7 with a Mazdatrix streetport 13B. I had already started building the car before I found out drifting was a sport. Originally my plan was to auto cross and road race the car. Soon as I saw that D1 video that changed.
– Was your first experience drifting odd or was it a natural feeling?
I spun out a lot but I think I caught on quick after a few events and quickly became an instructor with Drift Day. I was hooked from the very beginning!
– When and where was your first Professional drifting competition?
I guess it would have been the RSR Drift Festival at Irwindale Speedway in 04 I think. I placed in the top 10.
– Did you use your first drift car or did you use another?
Yep, ran my 82 RX-7, I think it surprised a lot of people. It really was a fun car to drift.
The 1982 Mazda RX-7, but not Kyle's.
– Did you do well, as well as you expected, or not as well as you could have?
I was happy to place in the top 10, it was a great event.
– Who was your first major sponsor that helped you in your Professional Career?
Mazdatrix and Baker Precision, they really helped get me started. Baker still supplies all of the plumbing and fittings for any car that we build.
 
Kyle's Mazda RX-7 that was sponsored by Mazdatrix and Baker Precision.
– What made you want to be a Professional drifter instead of a grassroots, doing it only for fun drifter?
I just like to challenge myself. It's a huge challenge not only to compete in Formula Drift, but to build the car and build the engines. Formula Drift is the place to lay it down. But I still have a lot of fun doing it – I can't imagine doing anything else.
– How has gaining Nexen as a sponsor and not just Mazdatrix helped in your career?
Tires are obviously a key factor in drifting, Having Nexen on our side means we have the supply of tires that we need to test and be competitive in Formula Drift. It was also a real boost to us to have a tire company new to Formula Drift put their faith in us. We are having our best year ever, sitting in the top-10 with one event to go.
Mike Meeiem, Nexen Tire Motorsports Manager, has a great team going, including one Kyle Mohan!
– Mazdatrix was best known for Road Racing and some drag racing, how much convincing did it take to get them into drifting?
I didn't give them much of an option, I said 'hey, I'm going to build this car and go drift it'. At first they all laughed at me and said I was crazy, which just made me want to do it more. As the sport grew we all realized that it was a good place to show off the motors we build as well as the racing and general service we have available. They're very happy to be involved in drifting now and have seen the involvement in Formula Drift pay off in their business.
More of what Mazdatrix are known for, Rotary powered Road Race/Time Trial cars!