Project Audi A4 Quattro: Part 1 – Introduction
As mentioned in the article summary our car is a 2006 model Audi A4. The car is a 2.0T model with Quattro and a six speed manual transmission. This is the specific combination that we set out looking for, the only thing that would've made it better would have been if it was a wagon but the wagons (or Avants in Audi speak) in the same configuration are very hard to come by and command a premium on the used car market.
So let's address a common question: "Why isn't it an S4?" After all, a car guy motto we should strive to live by is to always buy the biggest motor. We chose not to in this instance for the simple reason of cost. The S4 with its 4.2 liter naturally aspirated 340 horsepower V8 certainly out powers our 200 horsepower 2.0 liter turbo four. But it does so at a penalty of increased fuel consumption, higher maintenance and service costs, higher insurance costs, greater weight, and increased complexity. Besides, we figure we can meet or exceed the performance of the S4 in our humble base model with some help from our friends in the aftermarket.
The car presently has about 84,000 miles on it and we are the third owner. Our car was initially purchased with 60,000 miles on the clock. To date we have replaced the front brake pads and rotors, the fuel filter, air and cabin filters, the diverter valve, 2 coil packs, and miscellaneous missing screws and bolts. We also had our PCV system updated with newer spec parts courtesy of an Audi extended warranty campaign and misfires that caused a check engine light.
How we could look one day, lowered but not stanced on 19's. Image courtesy of VMR wheels.
As with most used car purchases it's wise to have the vehicle inspected beforehand. The identification of any outstanding issues that will need to be addressed with your new purchase is best done prior to signing on the dotted line. Of course, any issues that you identify can also be used to negotiate a better price.
If you take your potential purchase for inspection at a specialized Volkswagen/Audi shop then they should have the capability to read the ECU. Alternatively if you have a friend who is into V-dubs or Audis they may already have a Ross-Tech VAG-COM cable that you can use to monitor the car's state of health in conjunction with a laptop. When we were having our vehicle inspected we came across several independent shops that did not have the necessary equipment to analyze VW/Audis. Also, if the shop is handy with a borescope you might consider having them inspect for carbon buildup on the intake valves.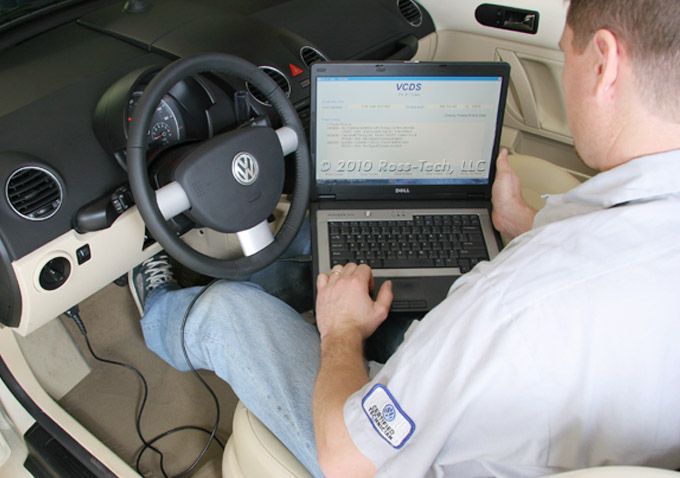 A genuine VAG-COM cable will work in conjuntion with VCDS software to allow you to communicate with the car's computers.
These cars have been known to have their share of electrical gremlins so be on the lookout for anything there by testing all switches and buttons. Also focus some attention on the front suspension in the control arm area to ensure that no balljoints are failing.